We only use the very best materials for our products. – Therefore, we gladly give a 5 year factory warranty on all our solar air collectors!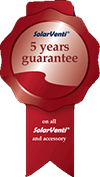 All Materials are of the Highest Quality!
The Large Amount of Air
Where most air collectors have a small slit in the bottom where they draw in air, the SolarVenti is utilizing the entire back plate for intake of fresh air.
The hundreds of small holes in the base plate of the SolarVenti allows the highest air output of the market.
Easily Replaceable Solar Cell
The housing of the Solar Air Collector is extremely durable and has a very long life. The only thing that limits the lifetime of the product is the electrical and electrical-driven parts, which typically last 10-20 years.
To extend the life of an air collector, we have moved the solar cell to the base plate, thus making it easy to replace the solar cell.
The healthy indoor climate
A healthy indoor climate requires you to have:
A healthy humidity of 40 – 60%
A CO² level that does not exceed the limit value of (1000 ppm) 0.1% per M³ air
Through regular venting and dehumidification, SolarVenti improves your indoor climate in all of the areas mentioned.